This Information is Too Valuable Not To Be Shared… Richard Dicks, National Manager NSP, Shared This Info With Us and with Richard's permission, We Are Passing it on to You.  Thanks Richard for Sharing this Concise and Easily Understood Way to Determine Which Simple Detox is Right for You.
"I've Been Muscle Testing People to see if they need a Simple Detox…  A product to help them Have More Energy to Enjoy the Summer More!!!"
"I Simply Muscle Test Them to See Which of the 5 NSP Detox Products Would Benefit Them the Most !!!"
"The Results Have Been Amazing !!!"
"I Would Have Them Use a Bottle or 2 … And Then Retest Them !!!"
~R. Dicks, ND Edc.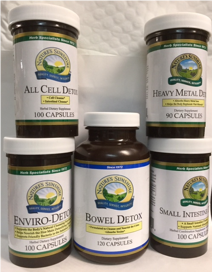 All Cell Detox … is an Important "Whole Body Cellular Cleanser" It Was Historically Used to Correct & Prevent Tumors, Fibroids, Cysts, Breast Lumps, Polyps, and Other Disorders.
Here's What in it: Gentian, Irish Moss, Cascara Sagrada, Golden Seal, Slippery Elm, Fenugreek, Safflower, Myrrh, Yellow Dock, Parthenium, Black Walnut, Barberry, Dandelion, Uva Ursi, Chickweed, Catnip, Cyani Flower
Bowel Detox … Is a Mixture of Many Things, Vitamins, Minerals Herbs, Enzymes, and Other Ingredients to be a All in One Supplement for the Intestinal System. It is Cleansing and Building.
Here's What's in it: Betaine HCL, Pepsin, Pancreatin & Bile Salts, Psyllium Hulls, Algin, Cascara Sagrada, Bentonite Clay, Apple Pectin, Marshmallow, Parthenium, Charcoal, Ginger, Chlorophyll, Vitamin C & E, Beta Carotene, Selenium and Zinc.
Enviro- Detox … This Formula is Excellent for Everyday Exposure to Toxins like Food Additives, Household Chemicals, and Other Pollutants in Our Environment. It Works by Detoxifying All Parts of the Elimination System: The Liver, Lungs, Kidneys, Skin, and Intestines.
Here's What's in it: Sarsaparilla, Milk Thistle Conc., Red Clover, Dandelion, Yellow Dock, Burdock, Marshmallow, Pepsin, Fenugreek, Ginger, Echinacea, Lactobacillus Sporogenes, and Cascara Sagrada.
Heavy Metal Detox … Binds and Removes Toxic Heavy Metals from the Body. It Does it by Binding With the Heavy Metal Ions and Moving Them Out of the Body Through the Liver And Bowel. The Cilantro, Alginate, And Apple Pectin Absorb in the Liver and Move Them Out Through the Bowel. The NAC and Alpha Lipoic Acid Are Protecting and Activating Liver in the Detoxifying Process.
Here's What's in it: P5P form of Vitamin B6, Cilantro, Alginate, Apple Pectin, N-Acetyl-L-Cysteine, Magnesium Citrate, L-Methionine, Kelp, and Alpha Lipoic Acid
• Small Intestine Detox … Helps Improve Digestion So We Get Better Use of the Good Food We Eat. It Cleans and Strengthens the Intestinal Tract. The Pepsin is Protein Digestive Enzyme That Not Only Digests the Protein, it Keeps the Waste That Can Accumulate on the Intestinal Walls From Building Up. The Marshmallow Absorbs the Pepsin to Allow it to Function, Soothes the Intestines, and Carries the Toxins Out Through the Bowel.
Here's What's in it: Marshmallow and Pepsin